Do you have a cause that is important to you? Perhaps you want to support that cause by involving your close friends and acquaintances. But how do you go about garnering their support? A great way is to host a fundraising event!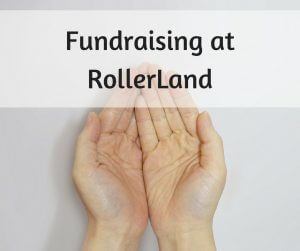 Hosting a fundraiser is simple when you follow these this simple guide…
Choose a cause: What are you raising awareness or funds for? Whether your cause is related to a sports team, school club, or local nonprofit, if the cause is near and dear to your heart then you will have no problem advocating and fundraising on its behalf.
Pick a venue and date for your event: Now you know what you are fundraising for, the next step is to plan your event. You need to choose a date and then a venue that has that date available. Luckily, RollerLand Skate Center in Fort Collins, Colorado is your one-stop-shop for the perfect fundraising event venue! We can accommodate a small group of 10 or a larger group of 300! Just let us know and we can make your event set-up for success.
Publicize your event: You are all set for your event, but there is one last thing you need to do… Invite your guests! Send out invitations or evites and let everyone know about your upcoming fundraising event. Throw in an anecdote about the cause and why their support matters.
When you follow these simple steps you are guaranteed to have a fun and successful fundraiser! We look forward to hosting your upcoming fundraising event at RollerLand Skate Center in Fort Collins, Colorado. Contact us at (970) 482-0497 to book your fundraising event today.