Did you know that roller skating has a ton of health benefits for children? It's true! Roller skating is a fun way for your child to burn off all that crazy energy most kids have. They can even burn up to 600 calories in just one hour of roller skating! The best part about roller skating is that it is such a fun activity your children will be begging you to let them go skating every day. And why wouldn't you let them? Roller skating is helping your child:
Improve muscular strength and cardio endurance

Improve balance and flexibility

Build enthusiasm

Relieve tension

Encourage healthy choices
We understand that encouraging your child to roller skate every day can become costly; however, we believe that the cost should never deter little ones from enjoying the benefits of roller skating. The Kids Skate Free Program is a great way to encourage your child to participate in the healthy activity of roller skating!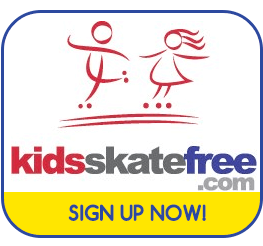 Here is how it works:
Children 11-years-old and younger are eligible for the program (registration must be completed for each child)

Register your child on the

Kids Skate Free website for Rollerland Skate Center

Once complete, you are now part of the Kids Skate Free program for your local roller rink in Fort Collins (registration may take up to a week to be completed)

Valid skating hours will be identified on the weekly passes
Redeem your passes at the ticket window and receive free admission during valid skating hours (additional charge for skate rental)
Your child will then enjoy the perks of roller skating at Rollerland Skate Center in Fort Collins, Colorado!
Still have questions about how the Kids Skate Free program works? Check out the frequently asked questions page here.