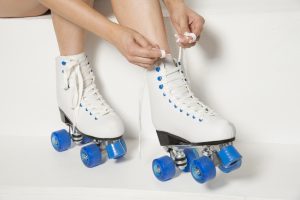 Roller skating is a classic pastime that generation after generation of families have enjoyed. So it seems only natural that it is becoming one the go-to after-school activities for parents and kids. After a long day of hitting the books, it is very important that you find ways to let your little ones burn off some steam, wind down and have some fun. Rollerland Skate Center in Fort Collins, CO is just the place!
Importance of Routine
Starting a new school year means starting a whole new routine. And we all know how important routines are for child development. So when you're trying to think of some fun, creative ways to have some regular fun with your kids after all that hard work they do, why not give skating a try?
Roller skating can burn up to 600 calories per hour, burns fat, builds muscle and gives you a full-body workout. But the best part is that it's so fun that the kids won't even notice how much exercise they're actually getting!
Make Great Friends
You'll meet people from all over at the skating center and it's a perfect place to make new friends. As a family-oriented activity center, you don't have to worry about what your kids are up to or who they might be hanging out with. At Rollerland, we provide a fun and safe environment for all ages!
More Than Just Roller Skating
Plus, there's enough going on at Rollerland to keep the little ones busy all school year long! Sick of skating? We have a rad arcade, a playground for the little ones and even a world class laser maze. There's so much to do here, you'll never want to go back to the books.
To find out more about our open schedule or how to make Rollerland a part of your weekly routine, give us a call today!