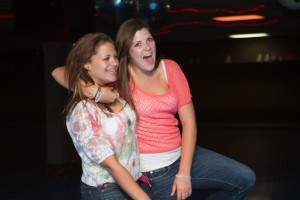 The Trevena family has over 40 years of experience in Fort Collins and 45 years in Colorado. The Rollerland family has the best entertainment in town. We provide a fun, safe, and alcohol-free environment for children and adults. Every session has a live D.J. to play the best music along with your favorite games. At Rollerland you're guaranteed to have a good time!!!
As a family business we strive to stay close to the community. Rollerland Skate Center gives back to the community with discount rates for non-profit organizations and through school fundraisers. Last year we raised over $10,000.00 for local schools through our family night fundraisers, and for our 25th Anniversary celebration in 2005 we donated $2,500 to the Poudre School District Foundation. On Wednesday evenings we have a discount session for only $3.00. Since the early 90's, we have also been involved in the PaCE program through Poudre School District.
Rollerland Skate Center underwent remodeling in 2017 and we also added arcade games. We now offer an indoor playground, Northern Colorado's first Laser Maze Challenge and a "redemption game" arcade center. For the beginner skaters we have "Skate Trainers" available to rent. During the 2017 remodel, we underwent major facelift and expanded our Birthday party rooms. We added to our concession's menu this past year!! Gift cards are available for purchase at the rink or over the phone.
So, come on down to Rollerland Skate Center – Where The Good Times Roll!
Patron Rules Of Conduct
These Rules are established and enforced for the safety and security of all skaters:
• Patrons will conduct themselves at all times as ladies and gentlemen
• No in and out privileges or loitering around the building . . . "When you leave, you leave"
• No alcoholic beverages are permitted on our property or anyone under the influence of alcohol will be allowed on the premises
• We are not marijuana friendly – if you smell like marijuana, you will be asked to leave
• No vaping or similar activity allowed in the building – you will be asked to leave if you are caught doing so
• Rollerland follows the Poudre R-1 School District Dress Code. All headwear must be securely on your head
• Skates missing brakes/toe stops or without approved wheels will not be allowed on the floor
• Fast, reckless, weaving in or out, tag play, or skating in a manner that may jeopardize the safety of others will not be permitted
• No sitting on walls, railings, tables, or counters
• All persons renting skates will be required to wear socks
• When the session is over, please tuck shoe laces inside the rental skates and return to the skate rental area
• All shoes, coats, purses and personal belongings must be placed in a locker or check area. Not responsible for lost or stolen articles. Please no personal belongings in our snack bar seating area
• All food and drinks must be kept in the snack bar area
• No gum chewing allowed in the building
• No foul language is permitted
• Parent spectators only
• Management reserves the right to inspect lockers, skate cases, and/or hand bags before leaving the building
• Please report all accidents to management
• Management reserves the right to refuse anyone not meeting the standards set forth
• No outside food or drinks allowed
• No Pets allowed
 A skating center is definitely NOT an appropriate place for pets. We value the safety of our skaters, so you will need to leave your pet at home. We also consider that many community members are allergic to pets, and we do not want their experience negatively impacted.
Only on-duty SERVICE dogs allowed on premises; SERVICE DOGS only. Emotional support animals are not covered by ADA provisions.
• No filming or photography without the management's permission
• Not responsible for accidents
• Skate at your own risk