LEARN TO SKATE AT ROLLERLAND: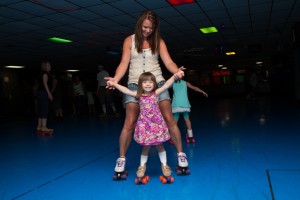 Don't know how to skate but you want to learn? Whether you are a beginner skater that hasn't even made it around the rink, an intermediate skater that wants to expand your bag of skating tricks, or the fast roller derby girl that wants to work on your technique….Jerica can help you obtain your goals. She'll get you there. For more information contact Jerica. Call or text her at 970-231-8007. Or email her at jericalessons@gmail.com.
Jerica Trevena is a master skater having been practically born on wheels. Her parents put her on skates before she could walk – a successful effort to get her comfortable as she was learning to stand in her formative years. She is a world champion speed skater, and one of the most amazing, agile, and fierce roller derby girls of current. In 2010, her and teammates won the national championship as Rocky Mountain Rollergirls!! She's been a team member twice for Team USA roller derby!!
She coached roller derby for over 10 years and taught for over 20 years!!