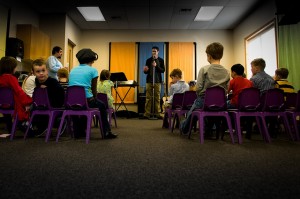 If you're planning an event for your church group in Fort Collins, Rollerland Skate Center is the perfect destination! Our family-owned entertainment center will provide your group with a fun, safe, alcohol-free setting for your church events.
We can accommodate any size group up to 600 and offer group rates for non-profits like churches who are bringing a group of 15 or more people.
Our family entertainment center is located in a 20,000 square foot building filled with family-friendly attractions that are sure to please children and adults. From roller skating to an exciting laser maze, everyone in your group will find plenty of fun activities.
Roller Skating
Bring a crowd to roller skate on our 12,000 square foot skate floor to the tunes of a live DJ on our upgraded sound system. If some of your group are new to skating, we have a practice area and personnel to help them learn. Roller blades and roller skates are available to rent and we even have plastic skates that go over the shoes of our youngest visitors.
Laser Maze
Try dodging the laser beams in northern Colorado's first Laser Maze Challenge. The lowest score wins, so avoid hitting lasers and finish as quickly as you can!
Indoor playground
Kids 11 and younger will want to make sure to visit our three-level, 2,000 square foot playground designed just for them.
We also have arcade games and a prize shop for even more fun and excitement. And when your group is ready for a break, just head over to concessions to check out our recently expanded menu, including pizza, hot dogs, pretzels, chicken nuggets, soda, and more.
Visit us today to see what fun we can bring to your church events! We're located at 324 South Link Lane in Fort Collins.
Photo by John Mayer via Flickr (CC by 2.0)