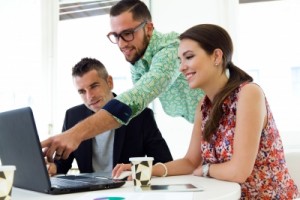 You work hard, so now it's time to play hard! Our family-owned entertainment center is perfect for company outings such as team-building exercises, holiday parties, customer appreciation events and any other excuse to get out of the office.
We offer a 20,000 square-foot building that you can utilize for your benefit. Whether it's the 3-level indoor playground for the little ones, the excitement of the laser maze, or the great jams out on our skating floor, we will make sure that the good times roll.
We offer a variety of options for Private events and can accommodate up to 200* guests. You'll have the entire rink to yourselves!
Availability for Corporate Parties and Retreats is typically  Thursday evenings, and Wednesday – Friday during the day with some availability on Sunday evenings.
Rollerland is a dry venue – we do not allow alcohol on our premises and do have an expectation that patrons will not be under the influence upon arrival.
To book your event, please fill out our Group Events Form online or call 970-482-0497 (when the recording begins, press  7).
*Restrictions apply depending on the demographics of your group -i.e variety in skate sizes, time restrictions, ad-ons