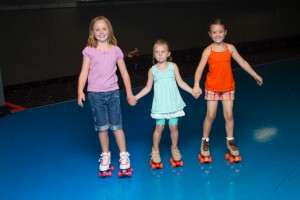 Get your friends together and let the good times roll at Rollerland Skate Center in Fort Collins! Enjoy skating on our smooth 12,000 sq/ft skating floor while listening to your favorite tunes and playing your favorite games.
Great music with a live DJ
Every session at Rollerland features a live DJ playing the best music, from today's hits to throwback favorites. With the glow of colorful lights and crowd-pleasing hit music for all ages, you can't beat the fun, festive atmosphere! 
Beginner skating
We know that not everyone is a pro, so if you are new to roller skating, we have "Skate Mates" to rent. Skate Mates are similar to walkers to help with stability and balance. Parents are also welcomed to walk on the skating floor to assist new skaters – just check those shoes to make sure they are clean and dry. For those who want to learn the basics or develop their skills further, we even offer roller skating lessons.
Healthy fun you can feel!
Roller skating is not only tons of fun; it's also a healthy, active hobby that your whole family can enjoy! Here at Rollerland, we like to say, "It's fun you can feel." No workout at the gym compares to the fun of gliding around our skating rink, but you'll still be strengthening your core and lower body while building stamina! (Learn more about the health benefits of roller skating here.)
Group events and birthday parties
Skating rinks are natural gathering spots, but at Rollerland we take birthday parties and group events to the next level with awesome activities, friendly customer service, great food, and more! Give us a call at 970-482-0497 ext, 7 to discuss your needs for group events – from school fundraisers…to sports team parties…to church events and more.