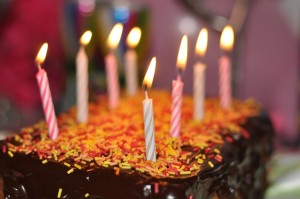 When it comes to family-friendly fun in Fort Collins, Rollerland tops the list! Our attractions include roller skating (always with a live DJ playing past and present hits), an indoor playground, arcade games, and our unique and awesome laser maze where you can live out your spy movie dreams and challenge friends to beat your time.
With so much fun in one place, it only makes sense to host your birthday parties and other celebrations here! Our party packages are affordable and give you options to fit your needs and budget. Read on to learn some of our tips for making your birthday party a success, and contact us for more information or to reserve your party!
Give plenty of notice, get plenty of guests
The more warning you give your guests for your upcoming party, the more likely they will be to arrange their schedules so they can attend! (Within reason- send your invitations out 6 months in advance and your guests are likely to lose the invitation.) Generally for a birthday party, 3-4 weeks is a good window. We even offer free printable invitations to make your party-planning easier!
Break the ice with activities
Birthday parties often bring together friends from different social groups, whether the party is for children or adults. Make sure your school friends and your sports teammates (or your office besties and your gym friends, etc.) can relax and get to know each other by including some games or icebreakers in your party. That's easy at Rollerland, where our interactive, social activities encourage group fun.
Make it easy
Throwing a party can be a lot of work, especially if you hold it at home and end up doing all of the set-up and clean-up yourself. When you have a party at Rollerland, we make it easy with our party packages that can include everything from food and drinks to goodie bags! Plus you get to go home to a nice, clean house!
Ready to make birthday dreams come true? Book your party online today!
Photo by jgojtan via Pixabay