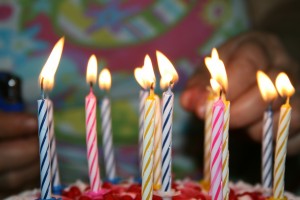 If you've ever thrown a kids birthday party in your home, you know how crazy birthday parties can be! That's why Rollerland makes it easy on you with the best birthday parties in Fort Collins. When you book your child's birthday party at Rollerland we take care of the party details so you can relax and make some memories on your child's special day.
1. Skip the mess.
Having your party here at Rollerland means that you can go home at the end to a nice clean house. We'll take care of all of the clean-up once you've left. And, of course, we'll also set everything up beforehand so everything is clean and ready when you get here.
2. Have awesome activities.
Instead of worrying about how to keep your party guests entertained and fed, just let the pros handle it! We have a wide variety of activities to make kids birthday parties a hit. Your party guests can skate on our spacious roller rink to awesome music from a live DJ, try their hand at the arcade games, test their skill at the laser maze, and/or have a ball in our indoor playground for kids 11 and under. Our birthday parties also include two large pizzas, two pitchers of pop, and if you have a particularly hungry crowd, you can always add more pizza, hot dogs, nachos, or other items from our concession stand.
3. Throw the party you want.
Whether you're planning a small party with a few best friends or a huge event with everyone in your neighborhood, we can make it happen. We have private rooms for smaller parties or you can rent out the whole building for a blowout birthday bash! Just pick whichever party package you'd like and we'll do the rest. On the day of the birthday your party will have a party host to help make sure that your party goes off without a hitch.
Book your party online now or give us a call for more information at 970-482-0497!
Photo by fotometin via Pixabay