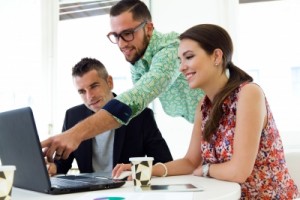 We know, it's not even Halloween yet, but now is the time to book your corporate holiday parties in Fort Collins! Though it may seem early, slots fill up fast for corporate events, especially at this time of year.
Here at Rollerland, we provide one of the best corporate event venues in Fort Collins thanks to our clean, spacious facility and fabulously fun activities. If you want to throw a unique event that your employees will be sure to gush about around the water cooler or coffee pot the next day, our family entertainment center is the place to do it.
What we offer
Our 20,000 square foot facility can host your intimate company party for 10 or your all-out extravaganza for 600. We offer both public and private events and will work with you to make your event a success.
Give your employees a night of carefree fun with skating to awesome music, playing arcade games to win prizes, and even challenging each other's spy skills in the Laser Maze Challenge! Want to show your employees that you value work-life balance? Throw a Family Fun Day event and let them bring their families to join in on the festivities. In addition to our fun-for-all-ages activities, we also have an indoor playground for kids 11 and younger, so the kiddos can play and explore while the grownups skate the day away!
Don't wait too late to book your corporate event or office holiday party in Fort Collins. Give us a call today at  970-482-0497 to discuss your company's special event needs.
Photo by nenetus via freedigitalphotos.net