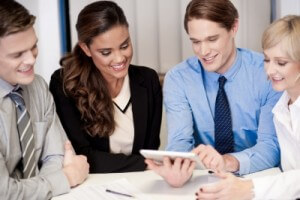 Corporate events can be a fun and exciting way for employees to bond and better get to know each other. After all, you want your employees to get along, work well together, and have mutual respect for one another. Next time you're planning a work event, make sure to choose an activity and location that is fun, like Rollerland Skate Center. After all, you need to make it worthwhile for your employees to spend the time out of the office.
Our Fort Collins skating rink and entertainment center has a live DJ at every skating session, adding to the enjoyment of the experience. Request your favorite songs, sing along, and reminisce of the fun times you had roller skating as a child. There are also arcade games, as well as a lazer maze challenge, which is perfect for challenging fellow employees to a friendly, competitive match.
An important feature of our corporate events in Fort Collins is that they're interactive. At Rollerland, roller skating, arcade games, and laser tag encourage employees to mingle, cut loose, and break the ice. There is no awkward standing around attempting to make small talk because everyone is too busy enjoying themselves!
Another way to ensure a successful event is with great food. At our skate center we offer a wide variety of fun foods. Choose from nachos, corndogs, hotdogs, burritos, chicken nuggets, pretzels, french fries, and of course, a crowd favorite, pizza. We also carry a variety of Pepsi fountain drinks.
You don't want to miss this fantastic opportunity for corporate events in Fort Collins. Plan your corporate outing at Rollerland Skate Center today!