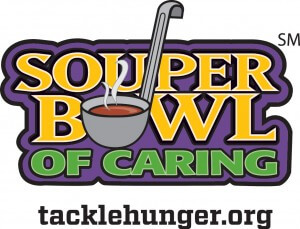 Did you know that 1 in 6 Americans faces hunger every day, and 16 million children in America live in food insecure households? Or that over 630,000 Americans are homeless and a staggering 50 million live in poverty? These are sobering statistics, but Souper Bowl of Caring is trying to change them. Luckily you can help, and it's going to be easy and fun!
Join us at Rollerland  on Sunday, February 1st, 2015 for a skate party to benefit Souper Bowl of Caring and fight hunger, homelessness, and poverty. This Fort Collins Super Bowl party is going to be a blast as we roller skate to awesome music from a live DJ, while also tackling hunger.
As always, we'll have fun activities for the whole family, including roller skating, laser maze, indoor playground, and arcade games, plus delicious food at our concessions stand. You may be wondering how your fun family outing at the skating rink is going to solve anything, so here's the deal: Bring in a can of food and get one free admission! It's that simple and easy!
Of course, you are more than welcome to bring in a larger donation of nonperishable or canned goods if you want to make even more of an impact. These are some of the best things to donate to a food drive:
Low-sodium veggies
Juice
Canned proteins- tuna, chicken, salmon
No sugar added fruit cups
Low-sodium soups
Beans
Peanut butter
Brown rice
Whole grain pasta
Don't miss out on this fun Super Bowl event in Fort Collins and the opportunity to make a difference with Souper Bowl of Caring!
Just the facts
Sunday, February 1st
1-5 pm
1 canned food donation = 1 free admission