Hats off to you! You did it! You accomplished an amazing milestone in life, and that is graduation. All of your hard work and effort has paid off and the possibilities stretched out before you are endless. It is time to pause and celebrate this great accomplishment in life.
You are cordially invited to join us at Rollerland in Fort Collins for our 2016 Graduation Bash! Read on for full event details below: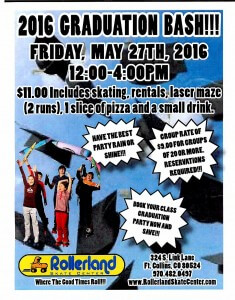 Friday, May 27, 2016

12 noon-4pm

$11 Admission (includes skating, rentals, laser maze (2 runs), 1 slice of pizza, 1 soft drink)

Groups of 20 or more with reservations in advance qualify for group rates of $9/person

Event will take place rain or shine
Regardless of what you are celebrating, whether the graduation from high school, middle school, elementary school, kindergarten, or preschool, we're here to celebrate with you! We can't think of a better way to celebrate and bring on the summer than with the best roller skating bash there is in Fort Collins.
Invite your friends and join us from 12-4 on May 27th. Don't forget to come prepared with your favorite song requests for our DJ and feel free to wear your cap and gown if you'd like! After all, the 2016 Graduation Bash is all about making memories that will last a lifetime as you enter into the next phase in life.