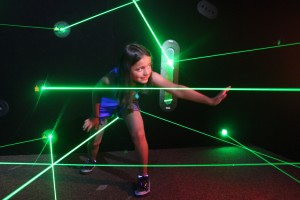 You probably know Rollerland as a skating rink—understandable, since that's how we started out when we opened in 1980! However, there's so much more to enjoy here at our Fort Collins family entertainment center. Keep reading to learn more about our other attractions, or just come see for yourself by signing up for our birthday club and receiving a FREE admission voucher! 
Family Fun in Fort Collins
When you're choosing a destination for family outings with your kids, it's important to get the most bang for your buck, as well as finding activities that the entire family can enjoy. Fortunately, we have something for everyone here at Rollerland. 
Adventure Awaits in Our 3-Level Indoor Playground
Little ones have TONS of energy just waiting to be spent, but they're not always up for long stretches of roller skating (or anything else, for that matter). Enter our 3-level, 2,000 square foot indoor playground! 
Designed for kids 10 and younger, our play place is a wonderland of kid-friendly adventure, beckoning your child to explore the three levels of tunnels, platforms, slides, portholes, and more. This is a great rain-or-shine playdate activity to do with friends, but it's also fine to come alone—your child is sure to meet some new buddies as they traverse the playground together!
Best of all, one low admission price gets you an entire day of indoor playground time, so you can visit with your kids when it's hot and buggy outside in the summer, cold and wet in the winter, or any other day "just because."  
It's GAME ON in Our Fort Collins Arcade
With 20 different redemption and arcade games, our arcade is a blast all on its own. Looking for old-school arcade classics? We've got Galaga, Pac-Man, Donkey Kong, Skee Ball, Air Hockey, and more. Want something new and fresh? Try your hand at Monster Drop, Sponge Bob, or Ninja Turtles!  And of course you'll want to give the crane machine a go to see if you can snag one of the cool prizes. 
Once you're all gamed out, head over to our prize counter to spend your tickets on cool stuff like Nerf guns, stuffed animals, candy, toys, glow accessories, lava lamps, and more. 
Test Your Spy Skills in Fort Collins's ONLY Laser Maze! 
Many guests have never even heard of a laser maze, much less experienced one—until they visit Rollerland, that is!  Our Laser Maze Challenge is a physical and mental game in which participants must navigate a darkened room without touching any of the laser beams. Think 1999's Entrapment with Catherine Zeta-Jones, or 2004's Ocean's Twelve with Vincent Cassel and you'll have some idea of the challenge. 
Every time you touch a laser, a point is added to your score. But don't go too slowly because the longer you take, the higher your score goes. See how low you can get your score, and challenge your friends or family to see who is the real super spy. 
Ready to add some fun and excitement to your life? Check out our schedule and plan your visit today!