Welcome to the world of roller skating! As a beginner, roller skating may seem like a challenge to take on initially. Once you have a good base foundation of skating skills, you'll be on your way to becoming a pro! So you know you want to learn to roller skate, but what comes next? How do you get started? We have the checklist of things you need to get you rolling!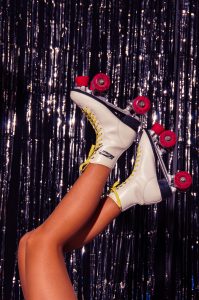 What do I need to roller skate?
This may seem quite obvious, but you will definitely need skates. Since you are just getting started, having some safety equipment on is a great tool while you're learning. Having elbow pads, knee pads, and a helmet will help keep you protected while you're getting the hang of it.
Once your skates hit the rink…
Once you're all geared up, here comes the fun part! Before you rule the rink and do all the skating tricks, you need to know the basics. Place your feet shoulder width apart. Bend your knees and squat slightly. This gives you a bit more spring and aids your balance. Find your sweet spot with this general stance that feels comfortable to you!
Now that you have your stance down, let's get to skating! To start rolling, position your toes outward and your heels inward. Practice walking like this until you find your balance. You may fall a few times before getting it right, but that's what the safety gear is for! After a bit, you'll be on your way! You can then start to move your feet more quickly and take longer strides. Once you've got that down, begin to push off harder with one foot while you glide on the other.
Look at that, now you're roller skating! We can't wait to see you rule the rink at Rollerland.