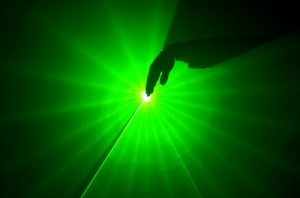 When it comes to family fun in Fort Collins, we deliver with a variety of activities for all ages. Rollerland offers much more than roller skating; we also have an indoor playground, an exciting new arcade where you can win tickets to redeem for prizes, and our unique Laser Maze!
What is the Laser Maze and how does it work?
Have you ever seen Mission: Impossible or Entrapment? In these action packed caper movies, a super spy/thief must climb and crawl through a tangle of criss-crossing laser beams without touching them in order to avoid setting off an alarm and ruining the heist. Think you've got what it takes? If so, you can take our Laser Maze Challenge.
As soon as you enter the maze room, laser beams will appear all around you. There's no going back, so you'll have to twist, squirm, and contort your way through without hitting any of the lasers. For each laser beam you hit, your score goes up. The longer it takes, the higher the points. Your goal is to wiggle your way through as quickly as possible while also avoiding the lasers. The person with the lowest score wins!
This is a super fun way to challenge your family members, friends, or even co-workers to a friendly competition! Afterwards, swing by our concessions for a tasty treat or rent skates and enjoy roller skating on our large rink complete with new sound system and live DJs playing your favorite songs.
Photo by Pixomar via freedigitalphotos.net