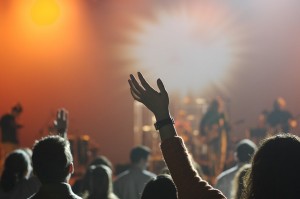 Looking for family-friendly events in Fort Collins? It can be tough to find something that the whole family enjoys, from toddlers to teenagers, and parents too! Fortunately, we've got you covered.
We're so excited to announce a new regular event at Rollerland- Christian Music Night! Every third Tuesday of the month through May 2016, we'll be devoting an entire skate session to playing today's best Christian music hits. We hope you'll join us for this special event series, taking place on:
January 19th
February 16th
March 15th
April 19th
May 17th
Christian Music Night sessions will take place from 5-8 pm, with $5 admission and $2 skate rental. We'll also be offering our awesome Fun & Games Special for only $9: Get skating admission, skate rental, indoor playground (kids 11 and under only), laser maze, and 12 arcade tokens. You can't beat that deal on good, clean family fun!
We hope that you'll come out and skate with us to some great Christian music, and don't forget to invite your friends! In fact, Christian Music Night is a great option for churches and youth groups in Fort Collins who want to enjoy some fun and fellowship. Skating is not only fun and family-friendly for all ages, it's also a great way to exercise, so your group will be building relationships and having healthy fun all at the same time.
If Christian Music Night doesn't quite fit your needs, not to worry! We can help you customize a church fundraiser, youth group event, fellowship night or other public or private event for up to 200 people. Just contact Jathan at 970-482-0497 for more information.
Photo by Unsplash via Pixabay