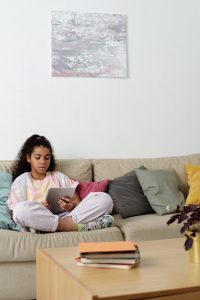 Kids love field trips because they disrupt the day-to-day routine of school and make learning much more exciting and hands-on. Unfortunately, with families in the Poudre School District and across the world learning to adapt to the "new normal" of life in a pandemic, actual field trips are out of the question for most students. 
Parents are challenged with running a veritable one room schoolhouse from the kitchen table, and adults and kids are both starting to feel a little stir crazy thanks to the constant togetherness and lack of access to sports, school, friends, church, and other group events. While our STEM field trips are on hold for the time being due to the pandemic, we want to help you and your kids "escape" to a fun, educational experience right from your laptop or tablet! Here are some virtual field trips to explore that can help kids learn about nature, history, the arts, and so much more.
Virtual Field Trips to Do from Home
Enjoy a day at the theatre.
If your kids are learning about Shakespeare in school, bring the Bard to life with a virtual visit to the Globe Theatre. The Globe allows visitors to stream a variety of Shakespeare plays for free, as well as other productions with paid admission. 
Are your kids (or you—eighties kids know ) big fans of Sesame Street, The Muppets, The Dark Crystal, The Labyrinth, Fraggle Rock, or other puppet shows? If so, you'll want to explore the content from the Center for Puppetry Arts, a museum and theater organization which offers both free and paid educational puppetry programming online. 
Experience science in a whole new way.
There is a ton of great STEM/STEAM content online these days, but one of the best places to go for a virtual science field trip is Discovery Education. Kids can learn about the cars of the future, the engineering behind today's cars, and how science can teach us to drive safely. Another field trip takes students into the Idaho National Laboratory to learn about nuclear energy. YouTube is another great resource for virtual science field trips. 
Explore famous museums around the world.
Google Arts and Culture has partnered with some of the best museums around the world to bring their collections to your computer. Visit the Van Gogh Museum in Amsterdam, the Georgia O'Keefe Museum in Santa Fe, the Acropolis Museum in Athens,, the Metropolitan Museum of Art in New York City, the British Museum in London, or one of a host of other world-class museums brimming with art and artifacts that will make any history nerd's heart skip a beat.
We hope these virtual field trip ideas liven up your family's school time while we're all stuck at home! Stay safe, and we'll see you when Rollerland reopens.