'Tis the season to give! While you're preparing for family time, breaks from school, and gifts, don't forget to give back to the community. Volunteering in your community helps kids feel empowered to change the world for the better, and can even help decrease feelings of depression and helplessness. At Rollerland Skate Center, we love giving back to Fort Collins! Check out these kid-friendly activities: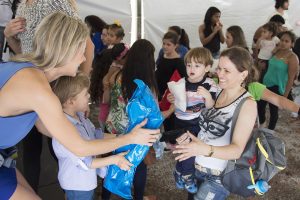 Kids of all ages can help pack lunches for those in need. Allow them to do as much counting, sorting, and packing as they can handle. A simple, nutritious meal with a sandwich, easy-to-eat snacks, and a drink will go along way towards making someone's day. Remember that many homeless people may not have access to dental care, and choose foods accordingly. Since it's getting cold outside, consider adding mittens, chemical hand warmers, or travel-sized toiletries.

Raising money doesn't have to be complicated, and every little bit helps! Participate in a walk/run for charity–most of these events have a family-friendly "fun run" option. All kids can start a "Helping Fund." Whenever kids find change in their pockets, on the ground, or hidden in the couch cushions, put it in a specific jar. When the jar is full, donate it to a worthy non-profit. Of course, if you want to really go all-out,

host a fundraiser

at Rollerland!

Of course, nothing beats hands-on help. Volunteering allows kids and parents alike to see their good work up close. Here at Rollerland we're proud to partner with

Larimer Humane Society

and

Food Bank for Larimer County

, both of which are fantastic organizations doing a lot of good in this area.
No matter how you choose to give back, we hope you'll reward yourself afterward with a family trip to Rollerland Skate Center!