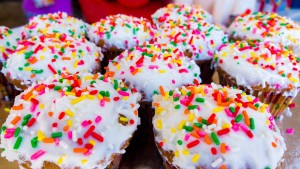 You've bought the birthday cake and the birthday presents, but what about the most important thing? Where are you going to have the party?
There are plenty of options for birthday parties in Fort Collins, but many of them aren't very kid-oriented, and do you really want to do all the work for an at-home party that's just like the year before and the year before that? Do something a little different this year- choose Rollerland Skate Center for your next birthday party. At Rollerland, you can be sure you're giving your child a birthday party they will never forget! Whether they want to skate, play a great selection of arcade games, or find their way through our awesome laser maze- there's no better option for birthday parties in Fort Collins.
Don't work up a sweat preparing food, straightening up your house so the other parents won't notice the junk mail and stray socks, and trying to "kid-proof" your home so your sugar-fueled little guests don't do too much damage. Skip the hassle and book one of our affordable party packages instead. At Rollerland, we make it easy on parents, providing pizza, soda, tokens, and a reserved seating area. You can kick back and enjoy the party- our party hosts keep the party moving so you don't have to.
Want to have an exclusive party where you can have the rink all to yourself? We can make your dream party a reality, as we offer both public and private birthday parties for a variety of styles, needs, and budgets.
So, lace up those skates and have some fun! If you're looking for the best birthday parties in Fort Collins, Loveland, Greeley, and Windsor, Colorado, book your Rollerland skating party online now.
Photo via Pixabay