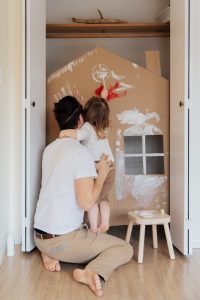 Like much of the country and the world, Fort Collins is under a Stay at Home order, and families are having to quickly figure out how to operate under this "new normal." Many parents are suddenly working from home (if they still have jobs) and kids are finishing out the school year via distance learning. Other families are dealing with parents working important front line jobs in healthcare, grocery stores, and other necessary industries, putting them at risk of exposing their families to coronavirus. It's a lot to handle, and if you're feeling overwhelmed, just know that you're not alone! As the saying goes, we're in this together—even if we're physically apart.  
While we eagerly look forward to welcoming you back to Rollerland when it's safe to open the skating rink, we understand that this period of social distancing and staying home is necessary, and our thoughts are with all of the patients and families impacted by this pandemic. Since we can't cheer you up in person, we hope these ideas for things to do with your family at home will help keep you entertained for the time being. 
At Home Family Activities to Avoid Cabin Fever
Bake something from scratch.
Did you know that baking can actually relieve stress? According to clinical psychologist Dr. Mary McNaughton-Cassill, baking fosters creativity and mindfulness. 
The smell of spices and vanilla are comforting, and [they] often remind us of happy times. Olfactory scents are particularly linked to areas of the brain that involve emotions and memory.
Enlist your kids to help make Grandma's cookie recipe from scratch, or get them to help make lunch with these recipes kids can help cook. 
Get crafty. 
Thanks to the internet there are a plethora of creative projects right at your fingertips, many of which can be completed with materials you already have around your home. Some ideas include:
Still looking for ways to pass the time? Don't forget about all of those dusty board games in the closet! Flip through family photo albums and share memories. Do some YouTube yoga together or have a daily dance party in the living room!