We can hardly believe that summer will be over soon. This means that it is almost back to school time. Sometimes back to school time can cause panic and chaos, especially if you don't prepare in advance. Don't let the back to school season sneak up on you!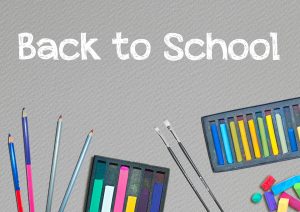 Check out these 4 simple steps to staying organized and you will surely beat the back to school blues:
School supplies:

Stock up on your school supplies earlier so you can beat the back to school shopping crowd! Shop early and you will be on the track to a successful back to school transition!

Organize your backpack:

Now that you have all the supplies needed for school, help your kiddo get their backpack organized! This will ensure they spend more time learning and less time digging around their backpack looking for what they need.

Awesome lunchbox:

A sure way to encourage your little one to eat nutritious, healthy meals is to pack their lunch in a lunchbox your child loves! Let your child pick out their new lunchbox while out picking up school supplies.

Inspire and motivate:

Encourage your little one during their first week of school by packing a special note in their backpack or lunchbox. Your words will motivate and inspire your child to be the best student possible! Nothing says you have to do this just during the first week. Continue this ritual throughout the school year if you'd like!
Now that your family is back to school ready, you will have more free time on your hands! We recommend spending that free time at RollerLand Skate Center in Fort Collins, Colorado! We have activities for children of all ages, and parents will enjoy the time here, too! We look forward to seeing you and your student at RollerLand in Fort Collins soon!