We at Rollerland Skate Center celebrate roller skating every day, but October is extra special because it is National Roller Skating Month! Here are just a few reasons why we think roller skating is the absolute BEST:
It's healthy:

Roller skating is a great way to get in exercise! Skating helps improve balance, core, and is an excellent way to get in cardio. Hitting the rink is way better than spending hours at the gym and it has the same benefits on your health!

It's social:

Skating is fun solo, but even more fun with family and friends! Skate backwards, forwards, holding hands, or to your favorite song. Roller skating let's you be as social as you want to be!

It's FUN!

If you need a better excuse to roller skate, what about just having fun?! Roller skating makes for a great time for

birthday parties

, special events, or a

weekend night out

. Grab your favorite pair of skates and just enjoy yourself!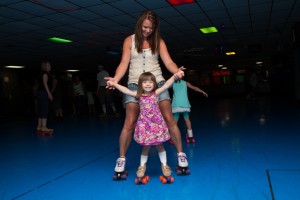 These are just a few of the reason why we love roller skating, but we want to hear from YOU! Go to our Facebook page and let us know why you enjoy roller skating at Rollerland. Be sure to use the hashtag #myskatemoves in celebration of National Roller Skating Month!
Rollerland Skate Center is Fort Collin's place for fun times on roller skates. We are located at 324 South Link Lane Fort Collins, CO 80524. Call us today at 970-482-0497 to speak to one of our team members about what makes Rollerland so special or to ask about our birthday parties!