School will be over before you know it, and the kids will be searching for something to fill the summer. For many families, summer sports are the best of all worlds: fun, social, and active enough that "summer couch potato mode" never activates. But summer sports are about more than just practice and games. Reward players for their hard work with a summer team sports party at Rollerland!
Team Sports Parties in Fort Collins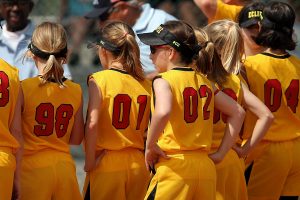 It doesn't matter what sport you coach. The kids will love the chance to laugh, play, and relax at our Fort Collins skating center. Team sports parties are great for baseball teams, dance troupes, cheerleaders, volleyball players, gymnastics teams, and other kids' teams. It's a great way to help the players connect and build trust pre-season. Team parties are also awesome for celebrating wins, getting over losses, or wrapping up a great season. Why book a team party at Rollerland?
It's air conditioned

. No sweat, no sunburns, just one cool party!

No food prep

. Leave the orange slices at home. Our parties include pizza, soda, and the option of add-on refreshments.

Nonstop entertainment

. Those players have a lot of energy. Use it! At Rollerland, your team will get unlimited skating, unlimited playground, unlimited arcade, or a double run for each kid in the Laser Maze. Want a 2 attraction party? Book it for just $2.50 extra per kid!

Assistant coaching

. Need an extra set of hands to serve the snacks, hand out trophies, and make sure everything runs smoothly? Our team sports parties come with a party host who has plenty of practice in refereeing skating parties.
Get a major win this summer with team sports parties at Rollerland.