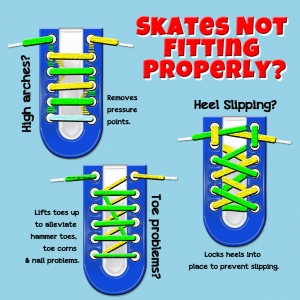 Whether you are teaching your child how to roller skate or you've been skating for years, improperly-fitted skates can ruin a good ride. So, the team at Rollerland Skate Center put together a list of ways to fix your laces! If you're having these issues, you may need to adjust your roller skate laces to ensure a proper fit.
Your Toes Ache
When your toes are crammed at the top of your roller skates, you may develop nail issues or hammertoes. (Hammertoes are toes that are bent downward permanently.) To avoid damage to your toes, lace your skates from side to side with half of your laces and lace your skates diagonally with the rest of your laces.
Your Heels Slip
You're wearing the right size roller skates and thick enough socks; so, we bet you're wondering why you're heels are slipping. It could be your laces! To keep your heels snug in your roller skates, crisscross your laces in their entirety and tie them tight at the top.
Your Feet Hurt
If you have high-arched feet, you will need to lace your skates a certain way. By lacing your skates from side-to-side instead of crisscross, you will remove pressure points and your feet won't hurt after skating. (And, to keep your feet happy and healthy, make sure you take good care of your feet.)
Now that you know exactly how to lace your skates to avoid heel slippage, aching toes, and hurting feet, come to Rollerland Skate Center! Skating is a fun activity that is extremely affordable and fun for the whole family. Check out our schedule, and visit us today.