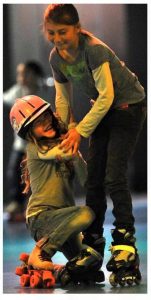 Sharing the joy of roller skating with your kids is a wonderful gift to give them, offering the possibility of lifelong fun, friendship, and fitness. Learning to skate is fairly easy, but it's still important to keep safety in mind before sending your child off on 8 wheels. Keep your kids safe while learning to skate with these roller skating safety tips for beginners. 
How to Teach Kids to Skate, Safely
Sign your child up for skating lessons.
Here at Rollerland, we've been teaching kids (and adults) to skate in Fort Collins for many years, so we know how to get people comfortable on wheels quickly and safely. Our beginner, intermediate, and advanced skate lessons are taught by Jerica Trevena, a world champion speed skater and national champion roller derby competitor! Signing your child up for roller skating lessons is a good way to ensure they learn basic skating skills, safety, and etiquette. Plus, they may just make some new friends along the way. Call or text Jerica at 970-231-8007 or email her at jericalessons@gmail.com for more information. 
Go to the skating rink.
The safest way to teach kids how to roller skate is to visit your local skating rink. While outdoor skating is a fun fitness activity, it's important to establish the basics in a contained, safe environment before hitting the streets (or sidewalks or trails). Falling down on our smooth, polished floor hurts a lot less than getting scraped up on pavement, and there are no sticks, rocks, or sidewalk cracks to trip over! We even offer Skate Mates for rent, which can help kids get comfortable on skates with less chance of falling down. 
Protect them with safety gear.
It's never a bad idea to start skating with safety gear—elbow pads, knee pads, wrist braces, a helmet, and a mouthguard. Some folks even wear padded bike shorts to protect their tailbones if they fall backwards.  
Teach them controlled falls
Learning how to fall safely is key, so teach your kids before they step foot (or skate) on the rink. If they start to lose their balance, they should go down on one knee into a controlled fall. (No, pinwheel arms and loony toons legs are not the way to go!) In some cases, going down on one knee may allow the skater to recover their balance, and in others, it minimizes the chance of injury by reducing the distance of the fall and preventing the skater from falling backwards. This is a great tutorial for learning how to fall and get back up safely. 
Ready to get your kids into roller skating? Visit our Fort Collins skating rink during one of our public skate sessions!