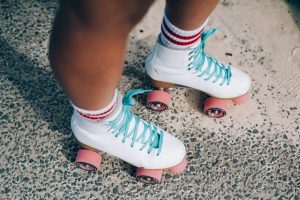 Staying active during the global coronavirus pandemic has been a challenge, as many gyms, studios, and even public parks are shut down to prevent the spread of COVID-19. While you can still walk or run outside with a face covering (as long as you're maintaining social distancing of at least 6'), if you're used to having other options, you may be getting a bit tired of walks by now. With skating rinks all over the country temporarily shut down, including Rollerland, we know that skaters are missing their favorite activity. Fortunately, you can still roller skate! 
There's no need to wait until we re-open to get your skating fix; if you own roller skates, we can help you make the switch to outdoor skating. 
How to Convert Indoor Skates to Outdoor Skates 
You don't have to buy a whole new pair of skates in order to skate outdoors. If you skate frequently, you may eventually want a dedicated pair for each type of skating just for convenience, but in the meantime, you can convert indoor skates to outdoor skates. The process is actually wheely easy… That's right, you just need to change your skate wheels!
What's the difference between indoor and outdoor skates? 
You can buy roller skates specifically for indoor or outdoor skating, but many skaters just switch the wheels out and use them for both. If you specifically purchase outdoor skates, the boots are typically more durable and higher cut, allowing them to stand up to the rougher surfaces you'll encounter outdoors (like cement), and providing more ankle support for the comparatively hazardous terrain. 
However, the main difference between the two is the type of wheels used. Indoor skate wheels are harder (and often narrower) than outdoor skate wheels, allowing you to glide over the hard, smooth surface of the skating rink. Outdoor skate wheels have to stand up to a lot more challenges, like dirt, gravel, twigs—basically any debris or texture on the sidewalk, street, or path where you're skating. The softer wheels act like shock absorbers, allowing you to take these obstacles in stride and keep on rolling. The extra width also increases stability. 
How to change your skate wheels
Changing your wheels is easy; you'll just need a skate tool or Allen wrench.
Unscrew the axle bolts from the wheel and set aside. 

Remove the bearings and spacer from the old wheel and transfer to the new wheel. 

Put the new wheel onto the frame and use your tool to tighten. Aluminum spacers can handle having the axle tightened all the way, but if you have plastic spacers, be careful not to tighten all the way, otherwise you could crack the spacer. 

Give your wheels a spin and check that they spin freely. If it's not spinning well, you may need to loosen the axle. If the wheel looks wobbly, tighten the axle. 
If you're more of a visual learner, check out this video about changing roller skate wheels to watch the process and learn how to do it for yourself. Need to buy wheels, tools, or other roller skating items? Give us a call at 970-482-0497 to order from Rollerland and shop local in Fort Collins!