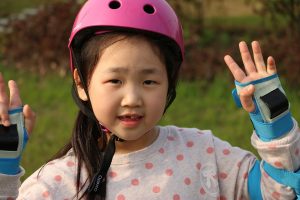 Summer is the perfect time for roller skating with friends and family, so if you don't know how to, you're missing out on a lot. But don't despair — regardless of your age or level of physical activity, you can learn how to roller skate at the Rollerland Skate Center in Fort Collins.
Rollerland offers lessons for everyone, from beginners who want to finish a complete trip around the rink to experts who want to refine their technique. Lessons are delivered in either a one-on-one or classroom setting, so you have a choice between a focused environment under a dedicated instructor, or a supportive atmosphere with fellow students. Or you can do a combination of both, especially if you're a newbie. You can start with a few private sessions then move on to group classes once you're more comfortable on the rink. Whatever your learning style is, Rollerland can adjust for you.
Aside from lessons on how to roller skate, Rollerland provides other activities for you to enjoy. This summer beginning May 31st, drop by the rink and spend the whole afternoon for $5 on weekdays (excluding Mondays) or $6 on weekends, plus $2 for skate rental. Some days include great deals, like Wacky Wednesdays and Family Fun Fridays. On Wacky Wednesdays, you can enter the skating rink, three-level indoor playground, and Lazer Maze Challenge for only $2 each. On Family Fun Fridays, you can get a large pizza, a pitcher of soda, five Fun & Games specials and 40 extra tokens for just $49. If you're part of a big group of more than 15 pax, you can get additional discounts on top of the special offers. You can learn more about it from Rollerland's FAQs.
Summer is all about skating, so drop by Rollerland now and be part of the fun!