Are you on social media? At Rollerland Skate Center, we love social media because it gives us an opportunity to share with you and for you to share with us in return! It helps us bridge the gap between us and you, allowing us to connect with you even when we aren't face to face at Rollerland. Engaging with friends near and far at the click of a button was always possible, but now that it is we can't get enough of it!

We especially love hearing what you have to say about Rollerland and your experiences (good or bad!) with us. In return, we also love sharing our news, events, and promotions with you. So, where exactly can you find us?
Facebook: Facebook is one of our favorite social media channels! We share fun promotions, upcoming events, great discounts, and more. We also love seeing you check-in with us on Facebook. Keep it up and you may even be featured on our page one day!
Twitter: Follow us on Twitter @RollerLandCO and tweet to us about your favorite skating memories and trips to our rink. Be sure to share pictures for a retweet from us!
Google+: Stay up-to-date with our address and latest hours on our Google+ page. Also, leave us reviews here to help other learn about how much fun Rollerland is!
Yelp: Yelp helps so many others find the perfect local rink, and with your help we can show Fort Collins how much fun Rollerland is through your Yelp reviews.
Our Blog: Our blog is always a great source of information so be sure to bookmark it and check back regularly for info on upcoming events or educational tips on roller skating!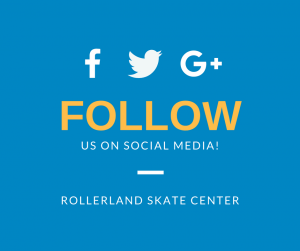 Be sure to connect with us today and start interacting with us. We can't wait to engage with you and look forward to seeing you at Rollerland Skate Center in Fort Collins, CO soon!

We are located at 324 South Link Lane Fort Collins, CO 80524 or send us a message on one of our favorite social media channels!