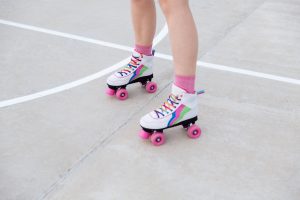 School is almost out which means your kids will likely be home all summer long. While this can be super fun, it may become rather boring after a few days. Fortunately, there are many ways you can keep them entertained and strengthen your family ties at the same time!
Check out a few ideas to make memories with your kids while they are out of school:
Bring Them to the Skating Rink
Roller skating is an activity that's fun for the whole family! Grandparents, parents, and kids alike all love this activity because it's enjoyable and great exercise. At Rollerland Skate Center, we love when families and friends come to the rink to have fun together and get to know each other. (Do you want your kids to take part in skate lessons to ensure safety and to learn the basic essentials? We offer skate lessons at our roller skating rink!)
Plan a Camping Trip
Colorado is beautiful in the summer, and you should take advantage of the outdoors with the family! When you choose to camp, you are unplugging from the many demands of life. You can do various camping activities such as making a campfire, fishing, telling stories, and identifying different trees and animals. If you don't want to travel far, camp out in your backyard! Your kids will love it and we bet you will, too.
Host a Game Night
Kids of all ages love games. So, what if you hosted a game night at your own home? You can bring out all the board game favorites or set up a charade space for the kids to enjoy. When kids play and have fun, it's actually helping their mental, emotional, and social health. If you do this one night a week for the entire summer, you could even keep track of who's "in the lead" and determine a winner at the end of summer!
The team at Rollerland Skate Center loves all of these ideas … but skating with the whole family is definitely our favorite. Check out our summer hours, call up all of your family members, and head to the skating rink! We know everyone will love this awesome activity.