What's the only thing better than an affordable, flexible, fun party package at Rollerland Skate Center? How about a newly renovated party space for affordable, flexible, fun party packages at Rollerland Skate Center in Fort Collins, CO?
That's right! We've recently completed a long and elaborate remodeling project, and our private party rooms got a HUGE upgrade. We heard your requests for more space, so now we have bigger rooms, more places to sit, and a new and improved look, including better curb appeal with a totally new entrance.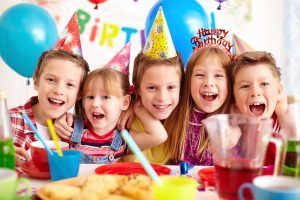 Parties at Rollerland can be as simple or as elaborate as you want, giving your guests access to one of our great attractions, or all of them at once. We even offer private parties where the whole skate center is yours for up to two hours–plenty of time for awesome skating games! Our party rooms are brand new and 40% bigger than they were before, and we could not be more excited. Your guests will love it! The guest of honor will love it! We already love it!
Not only have we renovated our party space, but we're not done yet! Look out for new food and concession items, a new prize and redemption area, and even more improvements coming soon. We strive to stay on the cutting-edge of entertainment and always keep our guests happy, so don't hesitate–let us know what else you'd like to see, either in our party offerings or anywhere else.
Remember: spaces fill up fast, and it's never too early to plan a birthday party. Contact Rollerland today and get your next party booked!