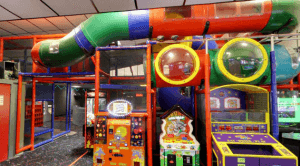 No kid can resist an indoor playplace, especially after being cooped up inside for a cold Colorado winter. At Rollerland Skate Center, we not only offer roller skating to fun music, the thrill of the laser maze, and of course the excitement of competing with friends on our arcade games; we also have the best indoor activity in Fort Collins for energetic kids- our indoor playground!
Fort Collins indoor playground
Our indoor playground is 3 levels and 2,000 square feet of tunnels, slides, and platforms for kids to climb, crawl, wiggle, and slide through for hours of fun. Designed for kids ages 11 and younger, our playground offers plenty of options for creative play with surprises around every corner. Kids can't help but have a good time with so much to do and explore.
Something for everyone
Our indoor playground ensures that the little ones in your family have plenty of fun when your family comes to Rollerland for a night out! But we're not just fun for kids; visitors of all ages love to roller skate to the best old and new music played by our live DJs, try their hand at our fun arcade games (and of course win tickets to redeem for fun prizes!) and even challenge themselves and/or each other to make it through the laser maze while touching as few lasers at possible.
Add to that our concessions area with delicious (and kid-friendly) menu items like chicken nuggets, hot dogs, and pizza, and it's easy to see why we're the top choice for Fort Collins families who want to have fun together without burning through their budget. Want to stay up-to-date on our upcoming events and specials? Just follow us on Facebook!