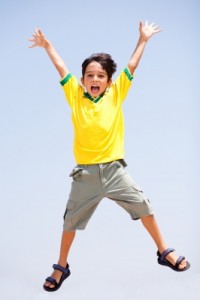 It can be hard to figure out what to do with your kids during the summer vacation from school. Your priorities are safe, nurturing childcare, while your kids just want to have a blast and enjoy their freedom. Fortunately our Fort Collins summer day camp is back again for 2015! Rockin' Rollers Day Camp was a big hit last year, and we've got a whole new summer of fun in store for your child with this year's camp.
We are a fully-licensed childcare center providing a safe, positive environment for kids with plenty of friendships, active fun, and educational opportunities. Our summer camp for ages 5-11 years old includes a variety of activities here at Rollerland, including roller skating, plus fun field trips to enjoy swimming, bowling, sports, and movies!
Rockin' Rollers Day Camp
Daycamp hours are Monday through Friday from 7:30 am to 5:30 pm and parents must pack a lunch for their child. Field trip costs are included in the daily fee, making our camp an affordable option for high-quality childcare in Fort Collins.
Register before May 1st and get a discount: Daily rate just $35.00 per day, or 3+ days per week for only $25.00 per day!
After May 1st, the regular daily rate is $40.00 per day, or 3+ days for $35.00 per day. There is a registration fee of $35.00 or $65.00 per family if you will have two or more children attending.
Spots are limited, so don't wait to sign your kids up for Rockin' Rollers! Give us a call today at 970-482-0497 or contact us online for more information.
Photo by photostock via freedigitalphotos.net