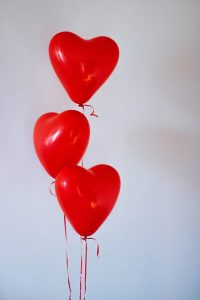 Cupid is getting his bow ready, and Valentine's Day is almost here! If you're looking for unique date ideas in Fort Collins to help you spend some quality time with your special someone, head to the skating rink.  
Flirty Fun in Fort Collins
Want to feel like a lovestruck teenager again? Or maybe you are a lovestruck teen? Either way, a roller skating date is the perfect way to show your boo that you care and make some memories to last a lifetime. Request "your song" and skate the night away! We're open on Valentine's Day, so you can add the skating rink to your date plans. 
Your Valentine's Date Checklist
Valentine's Day is not the time to phone it in, so make sure you plan a great date for your special someone! If you need some pointers, this Valentine's Day checklist should get you started. 
A card –

Don't skip the card; Valentine's Day is all about telling your favorite person how much—and why—you love them!  

A thoughtful gift –

There's no need to break the bank for Valentine's Day; a thoughtful gift that shows you really "get" your partner is more special than any big-ticket jewelry or electronics could ever be. A framed photo of the two of you, their favorite candy or snacks, or a handmade token of your love are all meaningful Valentine's Day gifts. 

An experiential gift –

Another clever way to pull at their heartstrings is to give the gift of a memory that hasn't happened yet! Concert tickets, sports tickets, or a gift certificate for an activity (like roller skating, hint hint!) are all future date activities that give you the opportunity to make more memories you'll both treasure. 

A romantic meal –

Romantic dinners don't have to involve a white tablecloth and an overpriced prix fixe menu. Cook them their favorite meal at home, pack a "picnic" and camp out in the living room floor with a pillow fort, surprise them after work with their favorite takeout, or hit up a cute-yet-casual local restaurant that you know they love. 

A date activity –

There's only so much eating, drinking, and staring into each others' eyes that one date can take. Pick something exciting to do so you can both cut loose and have fun together! Roller skating dates are perfect because they're fun, active, affordable, and nostalgic. Who doesn't love holding hands with someone special while skating to songs that make you fall in love all over again? 
Roller Skating Dates Are The Best Dates
Don't contain date night to Valentine's Day and your anniversary. It's important to make time for each other on a regular basis, so pick a night each week to be official "date night." Our weekly Adult Skate is a great Fort Collins date idea. Join us on Wednesdays from 8:00 pm to 10:00 pm for an 18 and up skate session. This no-kids-allowed session is just $5.75 admission with $3.25 skate rental, and we play some of the best music from the 70s, 80s, 90s, 2000s up to today's hits!