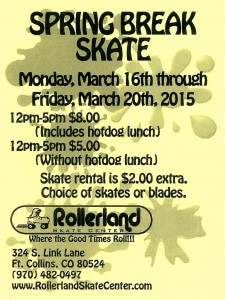 Spring Break is coming up for the Poudre School District, and many parents are frantically searching for something fun, safe, and active for their kids to do during the break. If you're looking for Spring Break activities for kids in Fort Collins, you've found it at Rollerland! We're excited to be hosting another awesome week of all-day skating for kids.
Why choose Rollerland?
These days, most kids are "plugged in" almost constantly, from playing iPad games or video games, to marathoning Netflix, to keeping tabs on a plethora of social media sites. Sometimes kids need some good, old-fashioned, IRL (that's In Real Life, grownups) fun with friends! If you want your kids to have fun, socialize, and get active during the break instead of forming an unhealthy attachment to the couch, our all-day skating events are the perfect solution.
All-day Skate for Spring Break
We will be open from noon to 5 pm every day from Monday, March 16th through Friday, March 20th. The kids will be roller skating to awesome music played by a live DJ, as always, and of course we also have arcade games and concessions.
$8 admission gets you a full day of skating and a hot dog lunch (hot dog, chips, small drink), or skip the lunch and just pay $5 to skate. Skate rental is $2 extra and both quad skates and inline skates are available.
We also have this awesome deal: $11.00 includes admission, skate rental, laser maze (2), playground, hot dog, small drink, and chips. (Usually $17.00 save $6.00)
You can't beat that for 5 hours of fun in a safe, supervised environment! For more information about this and our other Fort Collins skating events, contact us online or give us a call at 970-482-0497. And be sure to follow us on Facebook for our latest events, announcements, and deals!