Summer is coming. The kids have got the countdown to the last day of school and are anticipating school free days with joy, but you are still trying to figure out how to juggle your work schedule and what they'll be doing with all of that free time during the summer. Your countdown looks a little different as you realize time is passing and you still haven't figured out summer care plans for the little ones.
If this sounds like you, we've got a solution right here at Rollerland that we'd love to share with you…the Rockin' Rollers Summer Day Camp!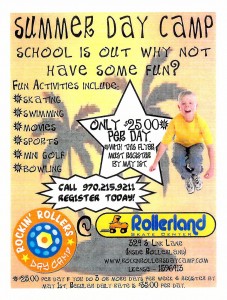 At Rollerland, we're counting down the days to summer in Fort Collins too as we prepare for our 2016 Summer Camp. Check out the details of all that we have to offer:
Camps run from May 31 through August 12

Hours are from 7:30am-5:30pm
Fully licensed
Fun activities
Fee is $35/day or register for 3 days or more/week and rate drops to $25/day (*must register by May 1)
Conveniently located in Rollerland
Available for children aged 5-13
School is Out. Why Not Have Some Fun?
With a 20,000 square foot facility to use for our summer fun, we take advantage of all that we can. That means that our summer campers enjoy playing hockey, four square (remember playing that when you were a kid?) dodge ball, floor ball, and skating of course! However, we also realize that variety is important, so we go on fun summer excursions. Additional activities (with transportation provided) include swimming, mini golf, movies, park visits, and bowling.
We're taking registrations now at the Rockin' Rollers Summer Day Camp. Don't miss out on the chance for your child to participate and on the opportunity to save money with our early bird registration by May 1st. Visit rockinrollersdaycamp.com for more information or to register, email rockinrollersdaycamp@gmail.com or call 970-215-9211.