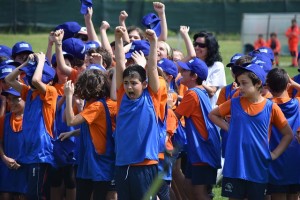 Throwing team parties in Fort Collins has never been easier, or more fun. Rollerland Skate Center is one place parents and coaches can throw a party that their team will never forget. Why Rollerland?  There are so many reasons!
We offer you plenty of room for not just your players, but their families, too. This way, even parents who can't get sitters for younger siblings will be able to attend. Our spacious facility can accommodate large groups, and at Rollerland, the younger siblings will have a good time too because there's so much for them to do!
We have plenty of fun and age-appropriate activities for every age group you might have in attendance: roller skating, arcade games, the Laser Maze Challenge, and even an indoor playground for kids 11 and under!
With a party at Rollerland, there is no clean up! If you have your party at home, you have to clean up the mess: you'll be cleaning up spills, throwing out garbage, vacuuming and sweeping up…but at Rollerland, there is no clean up!  Rollerland takes care of it all for you, so you can sit back, relax, and enjoy the event.
In addition to being convenient and fun, our party packages are also affordable! Party packages come with pizza, sodas, tokens for the games, a reserved party area and more. Let us take care of your Fort Collins team party and your team is sure to have a blast!
When you are ready to plan your team parties in Fort Collins, we're here to help. Contact us today to get started.
Photo by federicoghedini via Pixabay