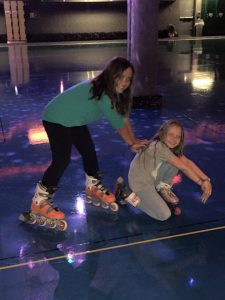 Is the daily grind getting you down? Do you feel like you only see your kids while driving them to activities, or that you and your spouse spend more time running your household than enjoying each other's company? If so, you're not alone—and you don't have to stay stuck in a rut!
Making time for family fun outings is not just good for your mental health and relationships, it's also the best way to make lifelong memories that you and your kids can cherish long after they've moved out and started families of their own. If you're looking for fun, family-friendly things to do in Fort Collins, we've got you covered. After all, we're your local source for family entertainment, parties, and good, clean fun!
The Top Five Family-Friendly Things to Do in Fort Collins
Skate and Play at Rollerland.
Family fun is our specialty here at Rollerland, from hosting the best birthday parties in Fort Collins to making any visit a blast with roller skating, arcade games, our unique Laser Maze Challenge, and even an indoor playground! Check out our weekly schedule to plan your family outing, and don't forget to take a look at our special offers, like this Skate-Cation discount.  
Explore the Museum of Discovery.
One of the best educational activities in Fort Collins is a visit to the Fort Collins Museum of Discovery. This local treasure offers hands-on scientific, historical, and cultural exhibits to create an interactive learning experience that kids, teens, and adults alike will enjoy. From a 43-foot long plesiosaur to the Music & Sound Lab, your family is sure to have a blast and learn something new.
Connect with Nature. 
Speaking of educational activities, you won't want to miss the Environmental Learning Center located near downtown Fort Collins. Open daily from sunrise to sunset, this 212-acre property is home to four ecosystems, three miles of trails, and ponds that are home to a plethora of plants and wildlife. 
Bike Fort Collins.
Here in Fort Collins, we're lucky to have so many options for fun exercise, from roller skating and hiking to biking the many local trails and bike lanes. Ride along the Poudre River or explore Lory State Park. We even have a bike share program, so no one has to miss out on the fun! 
Root for the Home Team.
Get in the team spirit with an outing to a game for one of our local sports teams. Pick your passion—baseball, hockey, football, and more! For an extra dose of family memory-making, create your own custom shirts or jerseys with your last name or each member's name on the back. 
However you spend time with your family in Fort Collins, remember to unplug from your phones and live in the moment. You'll have a blast, and the memories will last forever.