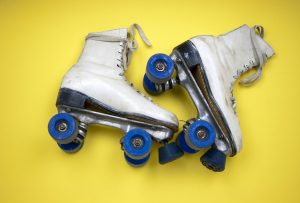 Do you love skating? If so, you're likely a regular at our Fort Collins skate center. Whether you love skating for its serious health benefits or just because it's fun, you have likely considered buying your own pair of skates or roller blades.
If you're still on the fence about renting or buying, read on and we'll help with your decision!
Renting vs. Buying
One of the biggest factors to consider is obviously price. If you're a casual skater, chances are it will be more affordable to rent your skates from us each time you visit. But if you're more serious, buying and maintaining your own skates can actually save you money in the long run.
Of course, you also need to consider the age of the skater. If you're thinking about purchasing skates for the whole family, you'll definitely want to consider the age of your children. If your child is still at an age where they are rapidly growing, it will probably be more economical to keep renting for your child so that they don't keep outgrowing their skates.
If you do decide to rent, then we have you covered! Our roller skates run from a toddler size 7 all the way up to an adult size 15. We also offer adjustable Playskool skates for small children. Our rollerblades start at a youth size 12 and go up to a men's 13.
Regardless of whether you own your skates or would prefer to rent from us, we hope to see you soon at Rollerland Skate Center! Check out our event calendar or call us at 970-482-0497 to check our hours.