We're back, baby! Our attractions are fully open and we're ready to let the good times roll this summer at Rollerland. Learn why our family entertainment center and skating rink should be your go-to place for family fun in Fort Collins this summer. 
More Than Just Skating
While we love skating and think our skating rink is one of the best places to party in Fort Collins, there's so much more to enjoy when you visit Rollerland. If it's been a while since you visited us, welcome back… And if you've never been here, we can't wait to see you! Check out some of our other attractions to explore this summer: 
Laser Maze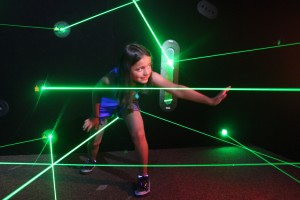 Have you ever watched a spy or heist movie where the hero has to navigate their way through a room full of lasers, usually by employing some cool acrobatic moves, nifty spy gadgets, or even the power of dance? Well, now it's your turn to test your agility, speed, and smarts! Our laser maze is one of the most unique entertainment attractions in Fort Collins. It's a huge hit with everyone from elementary-aged kids to teens to adults, and once you try it, you'll definitely want to go again to improve your score. 
The challenge consists of traversing a room without touching any of the lasers. For each time you touch one, you get a point added to your score. Likewise, the longer it takes you to complete the maze, the more points get added. You want to have the lowest score possible, so accept the challenge and see how low you can go!
Indoor Playground
We know our regulars are SO ready for the playground to be open again, and we're thrilled to welcome everyone back! If you're looking for an indoor playground in Fort Collins, this 2,000 square foot playspace will be a new favorite for your kids.
Our sprawling playground spans 3 levels, giving kids plenty of room to climb, slide, swing, crawl, and explore the tunnels, platforms, slides, portholes, and swings. Your kids will enjoy playing for hours, and unlike outdoor playgrounds, ours never gets rained out! Come on in for some active play, rain or shine, hot or cold. Please note that our playground is only for kids ages 10 and younger. Remember to wear or bring socks! 
Arcade
Escape the summer heat with some friendly competition at our arcade! We have all of the classics—skee ball, air hockey, Pac-Man, crane machine, etc.—as well as other arcade games like Teenage Mutant Ninja Turtles, Sponge Bob, Lucky Zone, Monster Drop, and Cyclone. Earn tickets to spend at our prize redemption counter, from candy to Nerf toys to giant stuffed animals.    
Don't let summer pass you by! Join us for family-friendly fun at Rollerland.