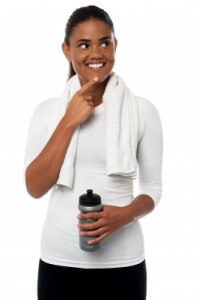 Everyone knows that exercise is an important part of a healthy lifestyle- that's probably why so many people make new year's resolutions to "Get in shape" or "Join a gym." It's much easier to stay active in the warm, sunny summer months, but when it's cold outside we still need to keep moving- even if that means getting a little creative. The recommended amount of exercise for a healthy adult is at least 150 minutes a week of moderate aerobic activity, or 75 minutes per week of vigorous activity. Either way, you should have some sort of physical activity throughout the week to stay in good shape. Roller skating is just one of the aerobic activities you can do three times a week to have fun while staying healthy!
For those looking to lose weight, try at least 30 minutes a day of physical activity with such things as brisk walking, swimming and/or roller skating. The key is to find activities you enjoy so that you'll want to keep doing them on a regular basis. Roller skating is a great option because it's indoors and we always have a live DJ playing the best music. Sure does beat the daily gym grind or braving the cold for a run! Even just substituting one or two workouts a week for roller skating can help keep you from getting bored with your fitness regimen.
Skating not only burns calories, but can also help you build muscle and improve tone. The action of pushing off with your skates and maintaining your balance as you glide works out your legs, glutes, and core, making it a very effective exercise- and one of the most fun by far.
If you're interested in roller skating for fitness in Fort Collins, check out our Family Fitness Open Skate every Wednesday from 1-3 pm. This session is open to all ages and admission is just $3! Take a look at our calendar to see all skate sessions and special events, and follow us on Facebook to see our latest deals and promotions.