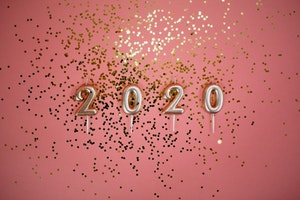 Can you believe that we're about to enter not just a new year, but a whole new decade? As 2019 draws to a close and 2020 begins, it's a great time to think about your past and present New Year's resolutions. What did you accomplish in the last decade, and what are you hoping to accomplish in the next? 
If, like many folks, you set fitness goals that were hard to stick with, consider making yourself a promise to let go of the guilt and say yes to movement that makes you happy! Some of the most common reasons that people "fail" at New Year's resolutions are trying to do too much, too soon; setting unsustainable and unrealistic goals; and feeling that if they mess up once, their resolution is ruined—so why bother going back to the gym, eating more veggies, etc.? 
New Year's resolutions shouldn't be about deprivation and self-deprecation. They shouldn't be all-or-nothing. Instead, check out these reasons to make roller skating your resolution for 2020! 
3 Reasons Your New Year's Resolution Should Be Roller Skating
Physical Fitness
Don't get us wrong, exercise is important for your physical and mental health. If your New Year's resolution is to be more active, that's fantastic! But remember, the key to making a sustainable, long-term change is to find physical activities you enjoy. Roller skating is a great option because it provides the aerobic, strength-building, and agility-honing benefits of other common sports like running or playing tennis, without the high-impact stress to your joints. 
And remember, you don't have to contain yourself to just one thing. Keeping your workouts interesting will help you stay interested over time, so try something fun like roller skating, a new group fitness class, ballroom dancing, etc. 
Socializing
People are so busy these days that it can start to feel like even your own family members are strangers. If you're tired of only seeing the people you care about on social media, make a resolution to spend more time nurturing your IRL relationships in 2020! (IRL = in real life, for those who don't speak Millennial.)
Make weekly family skate nights a tradition, set a monthly skate date with your best friend, or plan a monthly skating party for your church group, book club, etc. 
Self-Care
As we roll into a new decade, let's try to take more deep breaths, show more gratitude, and generally be kinder with ourselves. Make time to do things you enjoy just because, whether that's roller skating to your favorite songs, taking the time for a sit-down breakfast in the morning, or something else. Don't wait until you hit your goal weight, get that promotion, or land the perfect partner—do it now! 
Whatever your New Year's resolutions were or are, thank you for supporting our family-owned skating rink in Fort Collins! We've loved being a part of the community this decade, and we can't wait to see what the 2020s have in store.