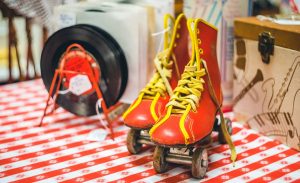 Roller skating is a big part of our culture! Not only is it a fun leisure activity during our free time, but it has also become a competitive sport. For many, time is spent at the local rink skating with family and friends and making lasting memories together! But when did roller skating become an activity so many people enjoyed? Surprisingly, roller skating goes back hundreds of years and has greatly evolved ever since!
The first recorded roller skate created was in 1760 by John Joseph Merlin. According to the National Museum of Roller Skating, Merlin was an inventor who first created the skates. He wore his very own invention to a masquerade party where he clumsily crashed into a large mirror. This mishap was witnessed by most of the party attendees which unfortunately set roller skating back by years! It wasn't until the early 1800's that roller skates were officially patented by Monsieur Petitbled. His patent was for what we know call "in-line" skates, meaning the wheels of the skate were in a straight line. Over the years, as roller skating evolved, the in-line skate evolved to a four-wheel skate giving skaters the ability to turn. This new skate is called a "quad skate" and is still in use today!
Although the evolution of the roller skate has changed over the years, even resulting in different versions of the skate, the purpose of roller skating is still the same – having fun!
At Rollerland Skate Center in Fort Collins, Colorado, that is exactly what we are in the business of providing our guests, a fun roller skating experience! Whether you are on roller skates or roller blades, you are guaranteed to have an enjoyable experience at our rink!