Do your kids come home after school bouncing off the walls and trying to eat you out of house and home? Let's face it: sometimes we adults feel that way, too! After being sedentary all day long, it's natural that we want to get our bodies moving and participate in a physical activity. We shouldn't fight the urge to get moving! Avoid the desire to plop down on your couch after school and work and instead adopt a new, healthier routine.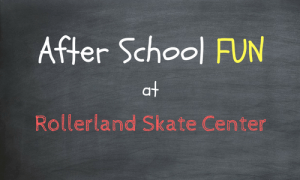 Here are a few ways you can establish a healthier after school and after work routine:
Put it on the calendar:
Start small by working in your new routine just a day or two each week and then build up over time to each day after school. Put your plan on the calendar to make sure you stick to it!
Hold everyone accountable:
Hold your family and friends accountable by putting it on their calendars, too. It can be easier to adopt a new routine when you do it as a family or group.
Make it fun by visiting Rollerland:
Who says a healthier after school routine has to be boring? Make it FUN by visiting Rollerland Skate Center in Fort Collins, Colorado. You will enjoy the best physical activity there is – roller skating! Roller skating has many health benefits and, most important of all, it is fun for everyone.
Rollerland Skate Center is located at 324 South Link Lane Fort Collins, CO 80524. Call us at 970-482-0497 to talk with one of our team members about our other attractions and activities. Be sure to check out our calendar for upcoming events and promotions before planning your next visit!