Do you have a best friend who has been in your life since childhood? Childhood friends are a huge part of our lives, as children and as adults. Together childhood besties experience major milestones together. From the first day of kindergarten to high school graduation, our friends are there for most major moments in life. And, of course, these moments come with special memories created with your best friend.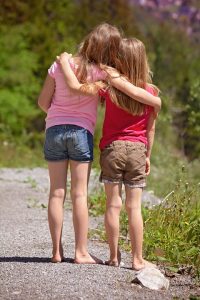 Those childhood besties are providing more than companionship!  Now research is showing us that our childhood friendships are enhancing our social and mental development in our youth. Friendships help kids develop important lifelong skills like how to have compassion for others and how to socialize well with others, to name a few. Friendships also help us develop a sense of self-esteem.
No matter your age, it is important to nurture the relationship you have with your best friend! You can do this by having fun together and creating lasting memories. And Rollerland Skate Center in Fort Collins, Colorado is here to help you and your bestie celebrate your special friendship!
Here are a few ways you and your BFF can create memories together at our skate center:
Rockin' Roller Summer Day Camp:

There's no better way to bring together a bunch of friends than at our summer day camp!

Rockin' Roller Day Camp

is being held now through August and it is the perfect way to celebrate friendship while making new friends!

Open Skate During the Weekend:

Our open skate is a fun time to roller skate with your friends while listening to the best music! We also have great concessions and other attractions to keep you and your bestie busy making memories!

Birthday Parties:

Birthday parties are always more fun when celebrated with those closest to you. Host your

birthday party at Rollerland Skate Center

and invite all of your closest friends!