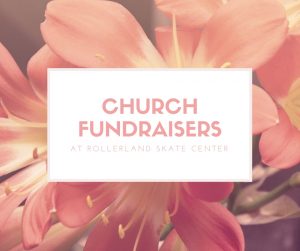 Trying to plan an upcoming fundraiser for your church? Well, fortunately for you, at Rollerland we put the FUN in FUNdraising! Not only do we make your fundraiser fun for your guests, we also make it easy to plan. We are sharing a simple list of 3 things to do when planning your next church fundraiser. Follow these steps and you will be on the path to a successful event!
Pick a date: Choose a date that works best for the members of your church who will be helping with the event. You can do this by taking a poll at your next meeting or sending out a brief online survey. Remember to pick a back-up date just in case your first pick isn't available.
Pick a venue: Next up, you need to find a place to host your fundraiser. There is no need to spend hours on the internet researching party venues when Rollerland Skate Center in Fort Collins, Colorado is your local party headquarters! Throwing parties is what we do best, and rest assured when you host your party with us, you are in great hands.
Invite your congregation and community: The hardest part is over! All that is left to do is invite your fundraiser attendees! Let them know the date and location of the event, and enjoy a successful fundraiser.
Check out our church group events page to learn more about our fundraising options or give us a call at 970-482-0497 to book your upcoming church fundraiser. Rollerland Skate Center is located at 324 South Link Lane Fort Collins, CO 80524. We look forward to hosting your upcoming event!