We know that the end of February is nearly here, but we wanted to remind you that some of the most common New Year's Resolutions center around saving money, spending time with family, and getting in shape. At Rollerland in Fort Collins, we've got a solution to help with all three of those resolutions or goals. What is that solution you ask? Roller skating of course!
1. Save Money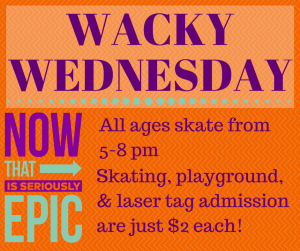 These days dinner and a movie can cost a small fortune. If your goal is to cut your spending in the area of entertainment, then we've got a solution for you with our Wacky Wednesday skating sessions! Each Wednesday from 5-8pm we offer skating admission, playground admission, and laser maze admission for just $2.00 each.
2. Spend Time with Family
Did you know we offer a Family Fun Friday package? We do! Every Friday after 6:00pm we offer up 5 Fun & Games Specials, a large pizza, a pitcher of soda, and 40 extra game tokens for $49! We require that at least one participant is a parent. This is a great way to spend time with family and save money at the same time!
3. Get in Shape
We've done the math, and it turns out that about eighteen laps around the roller skating rink is equal to one mile. Don't know about you, but the idea of skating miles is much more appealing us than running because it is easier on the joints! As an added bonus, check out how many calories you'll burn while roller skating with this calorie calculator!
We hope that these helpful suggestions will help you reach your goals! To see our latest events, specials, and announcements, follow us on Facebook!