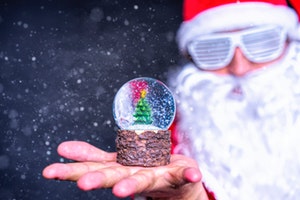 The holidays are HERE! It's the most wonderful time of the year (Can you believe it? Time really does fly when you're having fun!) and it's time to light up the last long dark nights of 2019 with holiday cheer. It's also one of the busiest times of the year, what with the parties and events, shopping, and end-of-the-year business at work.  
You've got a lot on your plate, but don't let that stop you from planning a holiday party. It will be easier than you think with these party planning tips from the pros at Rollerland Skate Center, your party destination in Fort Collins. 
Holiday Party Planning: 3 Tips for Pulling Off a Holly Jolly Event
Set the date. (Yes, right now!)
The most important step of planning a holiday party is to plan ahead! It's a busy time of year for everyone, so the sooner you invite your guests, the more likely it will be that they can attend. It's also a big time for parties, so check out our public and private party options and make your reservation before they're gone! 
Choose a fun location. 
There's no need to plan a ton of games or activities for your holiday party, just choose a venue with built-in entertainment! Roller skating parties are a hit with all ages; even small kids can learn how to skate with a little adult assistance or using a skate mate; tweens and teens will love hanging out with their friends at the rink; and many adults (including seniors) enjoy skating as a fun and low-impact way to stay active. 
Here at Rollerland, we've truly got something for everyone—not just skating, but also arcade games, an indoor playground for the kids, and our unique laser maze!  
Add your own twist.
A party should always have a little extra "something" to set it apart. Check out some of these holiday party ideas to make your celebration a hit! 
Give to a good cause

. Request that your guests bring a donation for the local food bank, homeless shelter, Toys for Tots, or an animal rescue. Make sure you check with the organization first to see what they really need. 

Save the memories.

Set up a

festive photo booth

with some fun props and encourage everyone to use your party hashtag when posting to Instagram. You'd be surprised how easy it is to make a unique photo backdrop, but if you're not the crafty type you can always purchase a sequined or shimmery backdrop online. 

Make like Santa with a gift exchange.

There are

so many options for gift exchanges

beyond just Secret Santa or White Elephant. Consider orchestrating a cookie swap, only allowing locally-purchased gifts, or swapping handmade presents. Get creative and have fun with it!