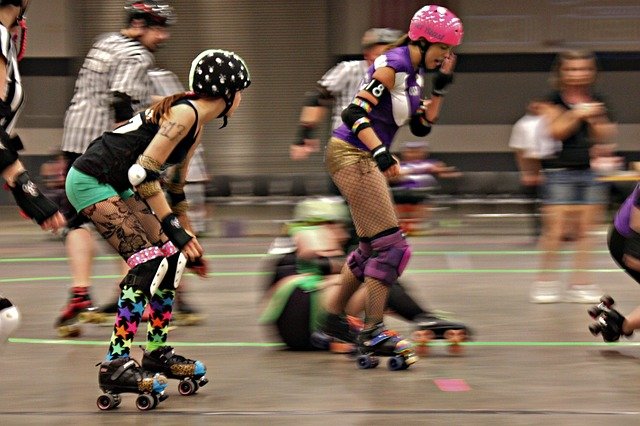 Halloween is always a fun time of year, but this year, we're all looking forward to it more than ever! After all, who couldn't use some excitement, candy, and an excuse to put on "real clothes" after being stuck at home for most of 2020? If you're looking for creative Halloween costume ideas, keep reading to learn some of our favorite roller skating Halloween costumes!
Halloween Costumes to Wear with Roller Skates
If you're reading this, you're probably someone who already enjoyed roller skating, either here at Rollerland Skate Center or other skating rinks elsewhere. Or you might be one of the many people to discover—or rediscover—a love of roller skating since the pandemic began. Roller skating has been huge on TikTok, so why not take advantage of the moment to show off a roller skating costume? Not only will you have a unique Halloween costume that turns heads, but you'll also be able to cover twice as much ground while Trick-or-Treating. 
Drive-In Carhop
One of the most iconic images of the 1950s and 1960s is the roller-skating carhop, a young guy or gal on skates who would take orders at customers' cars and zip back out with a tray full of burgers and fries. It's actually pretty easy to create a retro look to go with your skates, either by digging through your closet or searching your local thrift shops. Here are some ideas of what to look for: 
Solid or plaid shirtdress

Pedal pushers with a boat neck sweater or short-sleeved button-down blouse

Pleated slacks

Short-sleeved button-down shirt with sweater vest 

Cardigan over a button-down shirt

Polo shirt 

Jeans and white t-shirt (for the classic James Dean-style bad boy look)

Cat-eye glasses or horn-rim glasses 

Soda jerk hat (You can even

make your own

with paper and a few simple supplies!)

Tray with fake food—burgers, fries, milkshakes, etc. 
Roller Disco Royalty
Of course, we can't forget about another iconic moment in roller skating history: Roller disco. This retro look can also be pulled together pretty easily by shopping your closet or local thrift store! A few signature pieces to create your costume include: 
Bellbottoms

Shiny dress shirts with exaggerated collars (be sure to leave a few buttons undone for that

Saturday Night Fever

look.)

Leisure suits in the wildest colors possible

Sequins, sequins, sequins!

Metallic or sparkly fabrics

Jumpsuits

Halter or draped tops

Chain belts

Name necklaces
Derby Girls (or Guys)
If you're looking for a group costume to do with your friends, you can't go wrong with a roller derby team! Derby costumes are fun for Halloween and perfect for a group because you can look like you belong together without matching perfectly. This allows you to put your own spin on it, just like roller derby players do with their unique names and fashion styles. You can choose a theme for everyone to get inspired by (like Girl Scouts or school girl uniforms from Whip It!) or just choose "team colors" that everyone can stick to. Don't forget your helmet, elbow and knee pads, and wrist braces!  
We hope to see you in your awesome costumes, and hope you have a scary good Halloween!